Today the local MP for Enfield and Southgate, Mr Bambos Charalambous, visited our school to meet with and speak to pupils in Years 1, 2 and 7 about his job as an MP and politician. Year 9 were treated to a talk about developing their debating skills. Mr Charalambous talked about his role in Parliament and explained what he was doing to help support our local community in terms of improving police presence and investment in education.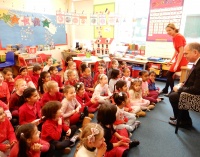 Preps and Seniors alike asked challenging questions, wanting to learn about Mr Charalambous's views on fellow politicians and his motivation for and feelings about becoming an MP. There were also many questions about the most talked about subject in the news this week – BREXIT!
Tyla (Year 11), who is keen on following a career in politics, helped to show Mr Charalambous around the School. Tyla is very much looking forward to undertaking work experience this summer at the MP's local Enfield and Southgate office.
The School is very grateful to Mr Charalambous for visiting today (Red Nose Day), and we would like to thank him for taking time out from his busy schedule to speak to PGHS pupils and staff.