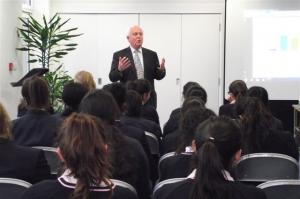 Palmers Green High School hosted a talk from a member of the House of Lords on Friday to encourage students to engage more with the political and parliamentary process. It was one of over 40 visits to schools that took place around the UK to mark the final day of Parliament Week, a national initiative to build greater awareness of, and engagement with, parliamentary democracy in the UK. Lord Mitchell met with 60 Year 10 and 11 girls for an hour to talk about the work and role of the House of Lords which supports their studies in Careers, General Studies and English (public speaking & debating). This was followed by a question and answer session on various aspects of the parliamentary process and life at Westminster generally.
Dr Mark Caddy – Deputy Head and Careers Teacher at Palmers Green High School said, "This was a fantastic opportunity for our girls to interact with someone who knows the parliamentary system inside out, as it can sometimes seem far removed from their daily lives."
The visit was arranged through the Lord Speaker's "Peers in Schools" programme, which has been running across the UK since 2007.