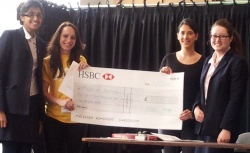 Palmers Green High School is helping Rays of Sunshine Children's charity to make wishes come true for children who are living with serious or life-threatening illnesses. The pupils presented a cheque to the charity this week for £2075 which they raised by organising a crazy carnival and a charity run. The money raised will make it possible for the following wishes to come true.
Jake, age 16 from Diss, Norfolk. Jake is living with Cystic Fibrosis and is treated at Norfolk & Norwich Hospital. Jake's wish is to go to his prom in style.
Annie, age 5 from London. Annie is living with Complex Gastrointestinal complications and is treated at the Chelsea and Westminster Hospital. Annie's wish is to meet Mr Tumble.