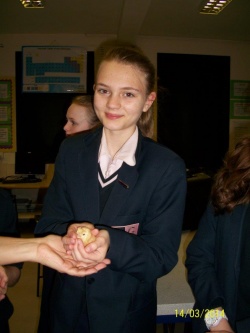 The Living Eggs Project (The Great Eggscape!)
Pupils from Palmers Green High School have been learning about and witnessing the life cycle of a chicken, from egg to hatching to a baby chick during their Science lessons over a two week period.
Mrs Kazim, Head of Science reports that this has been a very "eggciting" project and hundreds of connections have been made to view the live feed through the IP Cam, including parents, relatives and even people from other schools. Our pupils and teachers have been enjoying running the sessions and experiencing the hatching of the eggs. The eggs have now hatched and all 16 chicks are doing well.
Pupils and staff have been watching the live feed in their own classrooms and even coming into the laboratory to watch the hatching process. We have named all the chicks and are monitoring their weights on a daily basis. Once the new chicks were dry and fluffy everyone, pupils and staff, were very excited holding and handling them.
This Thursday the chicks and equipment will be collected and returned to the farm by The Happy Chick Company. We would like to thank the PFA for funding this amazing experience.