Years 5 & 6 were supposed to have visited the BFI for a workshop event comparing stories in printed form with the film adaptations. The day would have ended with a live Q&A with the phenomenal Michael Morpurgo. Although the event was cancelled, Michael was kind enough to answer their top questions:
Are you writing a book at the moment whilst in quarantine and if so has this lockdown inspired you to write a different genre of book?
I've been re-telling some of Shakespeare's plays as stories trying to bring them up to date. This would have been my writing time anyway but the lockdown has been a strangely creative time as well as challenging for everyone. It's been really good to have this work to do and the time to re-read the plays.
When did you start writing and what was your very first idea for a book?
I started writing years ago when I was a teacher in a primary school. At the end of the day we used to read to the children in class. I could see that the story I was reading my Year 6's was really boring them – they were sitting staring out the window and falling asleep. I went home that night and my wife suggested that I tell them one of my own stories that I used to make up for my own children at bedtime. So I went into school the next day and started to tell them my story. Slowly they started to listen and then intently on the edge of their seats, and by the time the bell went for the end of school, I had them in the palm of my hand. It was a great feeling and I've never looked back. The book was called It Never Rained, a collection of short stories.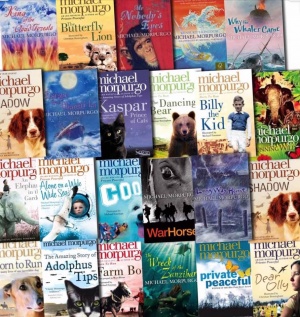 When you published your first book, did people start buying it straight away or did it take some time for you to be recognised?
It took some time to be recognised and a lot of work and travelling round the country visiting schools and festivals and talking about my books. In fact, my most famous book War Horse was first published in 1982 and only sold a few thousand copies a year for many years. And it wasn't until the National Theatre play of War Horse in 2008 and the film that sales really took off.
Another of Michael's books, Waiting for Anya, has been turned into a film and is released on 8th June Which is your favourite Michael Morpurgo book?