Miss Alice Hum – Founder of Palmers Green High School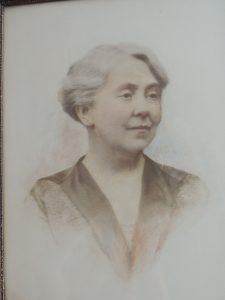 On the 8th May 1905 Palmers Green High School began when Miss Alice Hum welcomed 12 pupils to her School. The School's motto – 'By Love Serve One Another' – was carefully chosen by Miss Hum to encompass the important Christian convictions derived from her lifelong membership of the Society of Friends (the Quakers). In the world today, these values are equally important and have shaped the School's rich traditions and special ethos.
The School was originally located in Number 1 Osborne Road, Palmers Green, but in 1918 moved to Avondale Hall in Hoppers Road, Winchmore Hill, by which time the roll had grown to 300 pupils. Avondale Hall was the site of Avondale College for girls, and a popular location for suffragette meetings which were likely to have been attended by Radcliffe Road residents, Herbert & Laura Goulden (Herbert was Emmeline Pankhurst's brother).
Despite the outbreak of the Second World War, PGHS opened its doors as usual in September 1939 and by December it was the only school in the area offering full time education. At this time the neighbouring Keble School for boys shared our building since their own had been requisitioned for the war effort. So some of our Old Girls (Alumnae) are actually "Old Boys". At our 110th Anniversary, one of our alumni entertained us with a story of eating lunch, a small piece of cheese with one biscuit (a treat in those days of rationing), whilst she was confined by an air raid to the bomb shelter under the playground!
The famous Poet, Stevie Smith, was raised in Avondale Road and attended Palmers Green High School but it is unlikely that she would recognise the School today. Throughout the intervening years many alterations and additions have taken place and the site is virtually unrecognisable from the original Avondale Hall. The once-sprung ballroom floor of the main hall was removed and the existing hall lowered by approx. 2 metres to allow for the dining room and classrooms to be installed above. The main stairs were relocated and what was the original Headmistress's study is now an Art cupboard! The Science Block was added in the 60's and the Elizabeth Smith Hall, constructed in 2004, replaced two post-war pre-fabs.
The School has always had a strong tradition of raising money for charity, one which it maintains today. During the First World War the girls helped to raise funds for children in Europe, and made weekly contributions to support a bed in a hospital for soldiers. Today, we actively support a wide variety of charities from national appeals, such as UNICEF and Little Hearts Matter to local charities such as Noah's Ark Children's Hospice and The First Love Foundation which provides food, support and advice to people who face crisis in their lives in Tower Hamlets.
Although 118 years have passed since the first pupils walked through our doors, we remain true to our motto, "By Love Serve One Another". Palmers Green High School is proud to celebrate its long tradition of first-rate academic and ethical education for girls on Founder's Day in early May, when we remember, Alice Hum, and her vision for those original twelve pupils.
The Winchmore Hill Quaker Meeting House and its cemetery, where Miss Hum is buried.