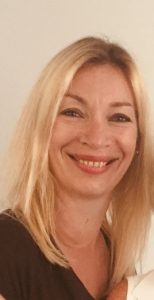 Madame Parry-Garnaud, Head of Modern Foreign Languages at Palmers Green High School (PGHS), shares her experience about a new project she is running with her Year 11 Pupils and local primary schools, entitled 'Le Français dans la communaute'.
The objective of the new partnership initiative is to give a French taster day to Year 5 pupils in local state primary schools where the language is not taught. The aim of the session is to understand what the children know about other countries and languages, to nurture their curiosity, cultural sensitivity, empathy and tolerance.
Background
PGHS has a long history of success in language teaching and learning. Intrinsic to this is the core belief of our Modern Foreign Language Department: teaching languages should strive to go beyond the obvious and everyday – the lesson plans and examination results – and provide long-lasting memories and skills for our pupils, which will take them further down whichever path they choose to follow.
As a Department, we believe it is never too early to begin learning a language. Studying an additional language is fun. It promotes healthy development, and its many cognitive and social benefits will last a lifetime. Research shows that learning a second language boosts problem-solving, critical-thinking and listening skills, in addition to improving memory, concentration and the ability to multi-task. Children who are exposed to other languages early in their lives display more positive attitudes to the cultures associated with those languages.
'Le Français dans la communaute' programme with local state schools launched on Thursday, 11th November 2021
Our 'Le Français dans la communaute' programme launched earlier this month. On Thursday, 11th of November, eight of our Year 11 girls studying French IGCSE, visited Year 5 pupils at the local St Paul's Church of England Primary School for the afternoon.
We were given a warm welcome by Mrs Batsford, Head of the school, and her teachers, and their school hall soon turned into a giant classroom, full of very enthusiastic Year 5 pupils.
To avoid the formalities of a standard lesson format, I decided that there could be no better ambassadors for the language than our Year 11 pupils. The PGHS girls were excited to become French teachers for the afternoon and they all agreed that it would be a great opportunity to use their skills in a new context. The girls worked as a group, creating materials such as mini lesson plans and flashcards for the session. The aim of the session was to present and discuss facts about France, French culture and the French language. Initially, at the start of the session, I asked the St Paul's pupils a series of questions to introduce their country of origin, accompanied by photos and music from a PowerPoint. It was wonderful to see the young children's faces when they learnt new facts, and they all had lots questions to ask!
After 45 minutes, the Year 11 girls started teaching in small groups: greetings, numbers, names were on the topic menu. Each group had a different approach to teachi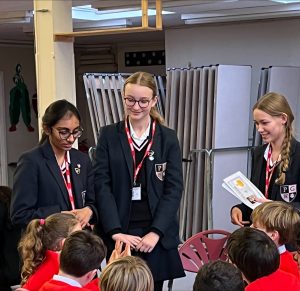 ng some of the basic language to pupils who previously knew nothing about French. Songs, miming, games and laughter were all used to ensure positive participation. They unanimously agreed that teaching was harder than anticipated, and that some children had the correct pronunciation straight away, while others needed to be told many times before remembering it.
Our Year 11 girls found this an excellent opportunity to engage with children of a younger age, teaching them a new language. They were delighted that the St Paul's children were so enthusiastic and commented, "It was so re-assuring to see how our French speaking came so naturally to us"; "we were so pleased the children wanted to learn from us"; and, "it was really rewarding when the children did well and remembered what we taught them."
The PGHS girls and St Paul's pupils were outstanding, and the girls thoroughly enjoyed their experience as teachers for a day. The overall consensus was that it was a fantastic work experience, but also a very tiring one!
I believe that this is an excellent demonstration of the ISC's Schools Partnership Week in action, to promote meaningful partnership work between independent and state schools. This is an ongoing programme which we will be running with local state schools over the forthcoming year. We are very much looking forward to expanding on the success of this activity with our Spanish IGCSE pupils working with St Monica's Catholic School in the New Year.